Hey, Good People How Are You Day Hope You Have An Amazing Day Like My Day, To Day We Ganna Talk About FIFA 14, Is A Sports Association Football Simulation Video Game Developed By EA Canada And Published By EA Sports. It Was Released In September 2013 For The PlayStation 2 (PS2), PlayStation 3 (PS3), PlayStation Portable (PSP), PlayStation Vita (PSVita), Xbox 360, Wii, Nintendo 3DS, And Microsoft Windows. It Was Released As A Freemium, Under The Title FIFA 14 Mobile, For iOS and Android On September 23, 2013, And For Windows Phone 8 On February 28, 2014, Although Much Of The Game Is Inaccessible Without An In-App Payment. It Was A Launch Title For The PlayStation 4 And Xbox One in November 2013. The PlayStation 2 Version Was Only Released In PAL Territories And Spanish-Speaking Markets, Hence The ESRB Cover For The PlayStation 2 Version Says In Spanish "Edición Legado" Instead Of The English "Legacy Edition". The PlayStation Portable Version Was Only Released As A Digital Download In North American, So I Will Show You How To Download FIFA 14 – Legacy Edition Europe ISO Version For Android And iOS I Using PSP Emulator To Play It And The PSP Emulator Called PPSSPP, It's Best PSP Emulator, For Now, Is So Fast And Good, In This Post, I Will Explain How To Download It And Install It With Review Gameplay, So Let's Get Stat If You Want More Details For FIFA 14 Follow This Link:
Review Gameplay Start At 3:35
At The First Move You Need To Download Content Game:
If You Don't Know How to Install This Game Watch To This Video:
How To Download Games Start At 1:00
How To Install Games Strat At 3:35
How To Play Games At 5:58
The Second Step If You Phone Is Not Supported Extract Files Select And Download One Of These Apps:
When You Finish Follow This Steps To Complete Install:
Extract The File Game To ISO File, You Will Found All The Content In "Download" Folder.
Go And Install The PSP Emulator – PPSSPP Apps Apk Extention.
Option If Your Phone Is Not Supported The Extract File, Install Winrar Or Winzip Wich Systems You Have, Open It And Go To Download Folder In SD, After That Go To "fifa_14_-_legacy_edition_europe.zip" Hold On It And Select Extract Here."Like You See In Pic"
Launch PSP Emulator – PPSSPP And Start Your Game, Maybe You Will Found Your Game On "Download" Folder, Where You Extract It.
Enjoy.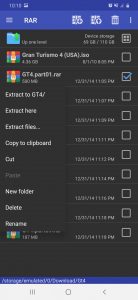 Some Back Up:
If You Game Is Lagging Or Working Slowly And Low Frame FPS Follow This Video To Fix Game Lag In PPSSPP Name Video, Best Setting For PPSSPP For All Games On Android Or iOS (No Lag)
That's It For Today, Hope You Like This Game Post And Explain With Review Gameplay, Just I Want To Say Shot-out For PPSSPP Company, Thank You For This Gift, And Before You Close This Window I Want To Invite You To Check Other Amazing Game, I Have Here, Dragon Ball Z Shin Budokai, Gran Turismo 4, Tekken 5 Dark Resurrection, Tekken 6, All These Games Is Working For Both Systems Android & iOS, Just Select Your PPSSPP Version Extention (Apk For Android Or IPA For iOS), And Enjoy And Have A Good Game, Peace Out!